Devon Local Optical Committee is the organisation representing Optical professionals in Devon.
The LOC is a statutory Local Representative Committee formed by National Health Service regulation which represents the providers and performers of NHS General Ophthalmic Services (GOS),as well as other local optometric services, in the area.
Our function is to liaise with NHS England, local hospital eye departments and their teams, the Devon Integrated Care System, GP's and patient representative bodies on matters relating to eye care.
We also organise Continuing Professional Development (CPD , accreditation evenings and peer discussion events) for optical professionals.
Purpose of the LOC:
To work with Devon Opticians and Optometrists ( Eye Care Professionals) and across the wider health system to improve eye health outcomes and reduce inequalities in the provision of eyecare.
To work with partners to design and deliver eye care services which meet local needs.
To work with partners to develop community orientated eye care services which are delivered in local High Street Opticians practices.
To advise the NHS on matters affecting Eye Care Professionals providing General Ophthalmic Services and other services within the South West area.
To enable and facilitate Registered Eye Care Professionals in the area to formulate collective views and develop ideas for improvement and better ways of working.
To advise Commissioners on the scope and efficiency of eye care service locally and offer advice and guidance on how improvements can be made.
To support and develop relationships with eye care colleagues in secondary care (hospitals) for the benefit of patients.
Disseminating information to the profession
Developing clinical eyecare pathways with neighbouring LOCs
The LOC Constitution is the source of the LOC's powers. LOCs can only act in accordance with the powers provided in the Constitution. LOCs must properly discharge the duties and responsibilities required by the Constitution. LOCs must not exceed the powers in their Constitution and should always check that any action taken by the LOC is within the powers the Constitution provides. The Devon LOC Constitution was approved at the AGM in 2016: Click here
If you have any questions about the LOC please contact either :
---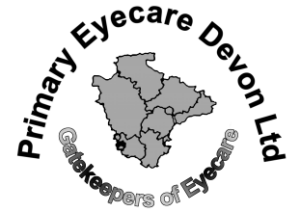 Primary Eyecare Devon (PED)
Local Optical Committee's are statutory bodies similar to GP federations and cannot enter into contracts to provide local eyecare services, therefore all the LOCs across England have what are termed "provider companies"- Primary Eyecare Devon is the local provider company in our area.
These provider companies are separate from the LOCs however do work closely with them and are tasked with delivering local eyecare services.
Primary Eyecare Devon Ltd is a provider arm of Devon Local Optical Committee and a consortia of all optical practices across Devon. The services are provided by Primary Eyecare Devon which is a not for profit company which acts on behalf of local optical practices. All users of our services are encouraged to give feedback via a patient satisfaction survey
It is a non for profit and acts as the vehicle to enable Devon optician practices to deliver enhanced optometric eyecare in Devon.
In Devon PED looks after services delivering cataract follow up appointments, glaucoma monitoring services, and in the Plymouth area a Minor Eye Conditions Service. Further information can be obtained from www.pedevon.co.uk or email pedevon@nhs.net